Welcome to OptiQuote℠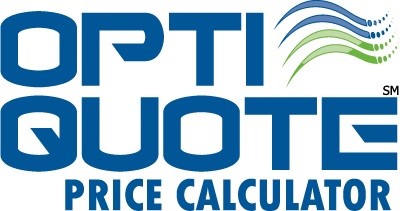 THE NEW WAY TO NEGOTIATE BEST SUPPLY PRICING
The OptiQuote℠ e-commerce pricing tool is the fastest way to negotiate volume pricing for your supplies. Whether you are making a one-time purchase or would like to secure pricing for annual blanket orders, OptiQuote℠ eliminates the cost of the traditional negotiation process for both the buyer and seller leading to lower prices and greater value.
To negotiate real time discounts with OptiQuote℠, simply sign up and you will gain instant access to a calculator tab within the shopping cart. There is nothing to download. The calculator is intuitive to use and generates discounts with a simple "click"! There is no obligation to buy. You can even use OptiQuote℠ to compare pricing from other sellers. Just give it a "test drive" with a few of the items you currently purchase. We believe you will find it to be a valuable tool regardless of whether you buy from us or one of our competitors.
Bundle your supplies and start saving today!
Click here to Sign Up Today! It's Free!
Preview of How to Use:
Simply shop the site and send items to cart.

From cart click "Go to Calculator".

Click "Calculate".

Click "Update Cart" and checkout.

You can move back and forth between the cart and the calculator as many times as you like while building your order.
It's that easy!
Why OptiQuote℠?
All distribution transactions are affected by a series of costs that typically include the sales and price negotiation, customer service, order entry, warehouse costs, delivery, trade credit, invoicing and accounting entries. With OptiQuote℠ pricing, the associated service costs are reduced, and the savings is passed on to the customer. Traditionally, distributors have simply averaged these service costs and included them in their item mark-ups causing customers to potentially be over or under charged for their purchases relative to the actual cost to process their order. As more purchasing professionals are looking for distributors with online tools to help them do their jobs more efficiently, OptiQuote℠ gives our customers greater control over the procurement process without the traditional negotiation 'dance' or 'pencil sharpening' with a distributor sales rep. Unlike existing bracket pricing methods, OptiQuote℠ is very exact and discounts can extend beyond truckload pricing. The simple to use application relies on cost analytics that run in the background of the app to generate optimum pricing.
Customers can also use OptiQuote℠ to calculate pricing for blanket orders over a budget year or contract period. Provided there is sufficient volume, any contract or deviated costs that are available from our manufacturers can be loaded into a specific customer's account prior to using the calculator, further reducing the calculated price. The customer also wins by reducing costly sourcing efforts, or calls to sales reps for pricing that fits their budget.
OptiQuote℠ is a browser based app that can be used on desktop, tablet and mobile devices. It is free to use and available now for industrial supply and packaging buyers through IP Products.
Start leveraging your purchase volume today with OptiQuote℠!
Click here to Sign Up Today! It's Free!